Discover more from Life Inside the Bubble
A newsletter about privilege, class, and wealth.
Why Don't Politicians Listen to Voters?
The climate movement has convinced Americans global warming is an urgent threat. But DC hasn't noticed.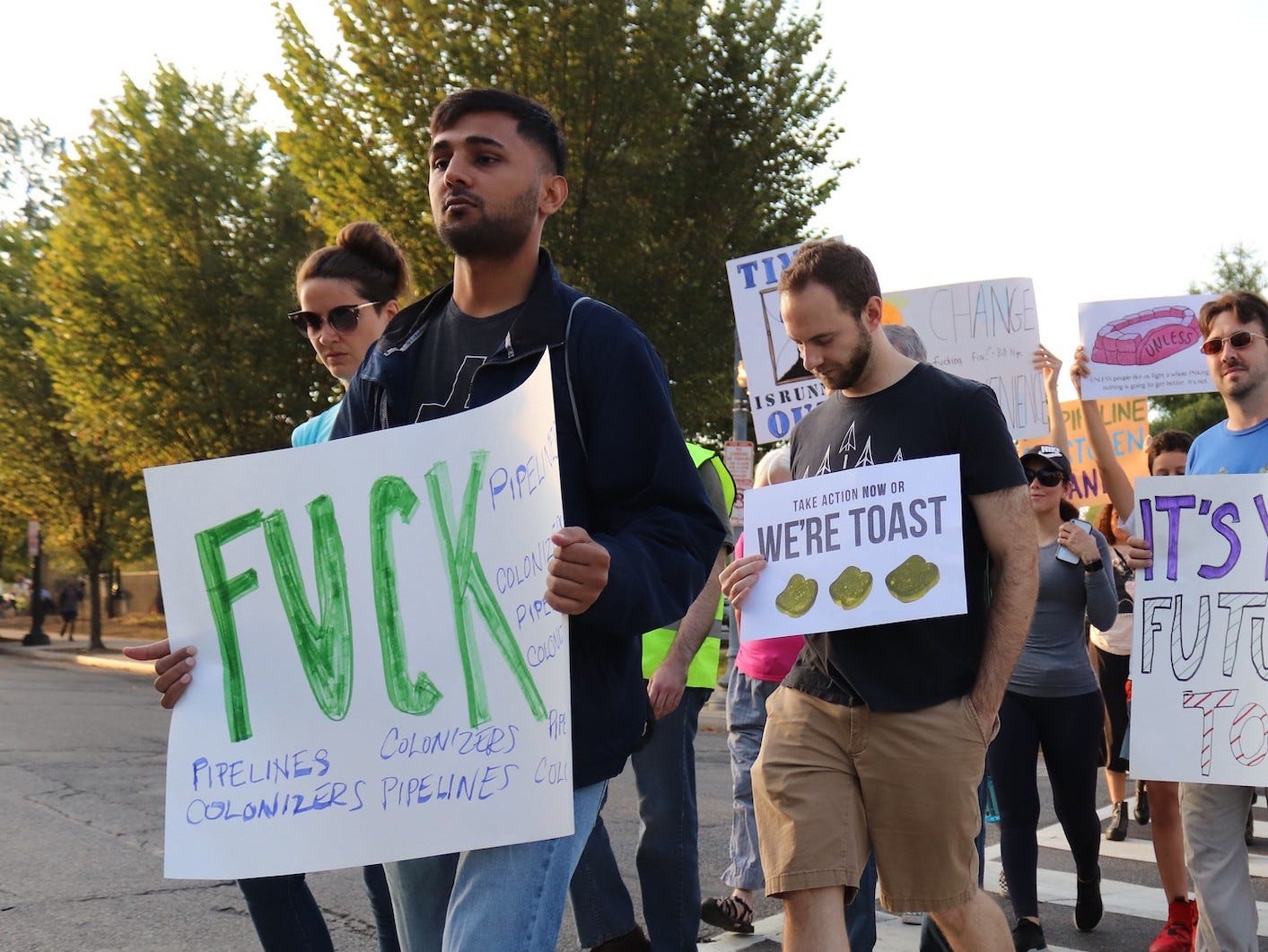 Welcome back to What Went Wrong?, a newsletter about the failures, inefficiencies, and screw-ups that define 21st-century American life, written by Harry Cheadle. Please subscribe if you haven't done so. Above photo of a 2019 climate protest in Washington, DC by Elvert Barnes Protest Photography.
Last week I wrote a story for Mic about Vote4OurFuture, a nonprofit led by young people that is trying to persuade voters to think about the climate when they cast their ballots. These climate activists are trying to do what generations of climate activists have done before them: Convince people that our planet getting warmer is a crisis that will cause floods, deadly heat waves, and fires even worse than the ones we've already seen, and that urgent, society-wide action is needed. 
What gets overlooked sometimes is that this project of persuasion has been incredibly successful. Jon Krosnick, a Stanford professor who has been studying public opinion on global warming for decades, summarized it like so in 2015: 
"On so many issues America is divided about 50/50, but that's not true on climate change. We see large or huge majorities, sometimes 75 or 80 percent or more, taking what we would call a green stand on the issue." People by and large believe that climate change is real, that it's man-made, that it's a serious problem, and that the government should do more about it.
In the last couple of years concern over the climate has hit new highs, with Gallup polling in 2019 finding for the first time that a majority of Americans are "concerned believers," i.e. people who are (correctly) "highly worried about global warming" and who think if anything the media underplays how serious it is. But even prior to 2019 this group of believers vastly outnumbered the "cool skeptics" (climate deniers), who were never more than 28 percent of the population. 
We should keep this polling in mind when we talk about climate change. The problem isn't that Americans don't care about the climate crisis. A majority of us do! The problem is that American leaders, who are supposed to respond to our concerns, haven't done what most of their constituents want them to do. This inaction isn't just fueling a climate catastrophe, it's an example of democracy itself failing. 
Problem 1: The United States is governed by a minority
A particularly tedious type of person will tell you that the US is a "republic, not a democracy." A slightly more educated version of this person will wax poetic about how the Founding Fathers were very concerned about a "tyranny of the majority." Given too much power, they worried, the gibbering crowds out there might enact laws based on bad ideas, the majority might move to subjugate religious or ethnic minorities, or a critical mass of people might be persuaded to elect a dangerous demagogue. The framers of the Constitution built a system of government that would dilute populist forces. The right to vote was initially restricted to relatively wealthy white men, and the only federal offices filled via popular vote were members of the House, with the Electoral College and state legislatures choosing the president and US Senate, respectively. 
The US has gotten much more democratic than it was at its founding. Any citizen over 18, regardless of race or gender, now has the right to vote. Senators are elected by popular vote. Members of the Electoral College don't get to use their judgement when selecting a president but are bound by law to follow the will of their state's voters. Many states have a system by which regular citizens can put forth ballot measures and change laws through direct vote. 
But certain checks on the power of the people remain. The big one is the filibuster in the Senate, which effectively requires 60 votes to pass most legislation, a nearly impossible requirement to meet in an age of partisanship and closely divided government. Since the Senate is already an anti-democratic institution where small states have the same weight as enormous ones, this gives a great deal of power to the minority of voters who live in mostly rural states. The last time a climate change bill had a chance of passing—2010's Waxman-Markey bill—it died in large part because that 60-vote requirement allowed centrist Democrats and Republicans to kill it.
Presidential elections also contain anti-democratic elements. Primary contests distribute delegates in idiosyncratic ways that rarely correspond to raw vote totals. In the 2016 race, Donald Trump built a lead over his GOP rivals even though most Republicans backed someone else; in South Carolina's key early primary, Trump got 32 percent of the vote 100 percent of delegates. The general election inevitably comes down to how a candidate's voters are distributed geographically—Hillary Clinton famously had 3 million more votes than Trump nationwide, but that didn't matter in the Electoral College, which assigns points based on statewide wins. 
All of this led to Trump becoming president despite most Americans disagreeing with him on a host of issues. On climate change, he tends toward outright denial, a view that is far from universal even among Republicans. 
The US system was designed to be unresponsive to the popular will, in other words. But that's not the only issue: politicians often favor special interests and the donor class while ignoring the concerns of ordinary Americans.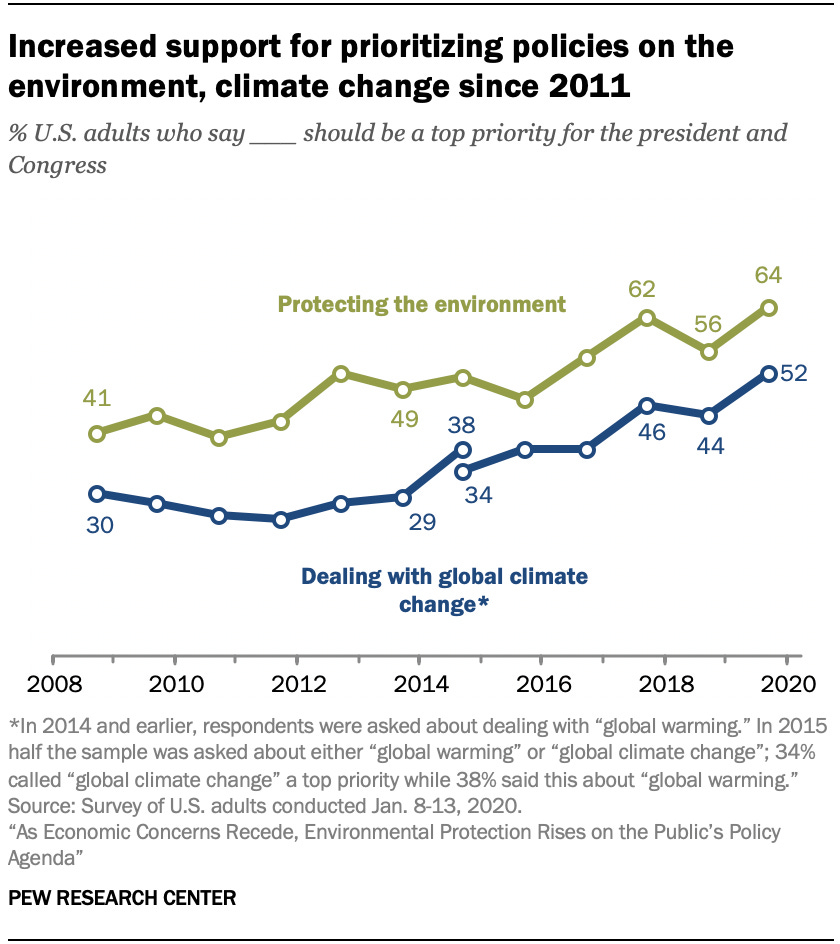 Problem 2: It's not just Trump who won't listen to voters
The Republican Party has long pushed for a deeply unpopular set of climate and environmental policies that make it easier for companies to pollute American air and water. So you might think that the Democrats would highlight their own, much more popular environmental policies. Historically, they haven't done so.
Krosnick's research found in 2011 that Democrats in the previous two election cycles who took "green" positions on climate change publicly were more likely to win than those who were "silent" on the issue. Barack Obama, however, infamously dodged talk of climate change, and it wasn't mentioned much in the 2012 campaign. In 2016, Hillary Clinton continued this tradition of soft-pedaling global warming, and climate was barely brought up in her debates against Trump. When left-wing climate activists coalesced around the Green New Deal after Democrats took back the House in 2018, Speaker Nancy Pelosi sneered at the far-reaching, economy-transforming proposal. Even after a string of record-hot years and historically massive natural disasters, climate wasn't a major topic during the 2020 Democratic primary debates, which instead were dominated by healthcare. 
One reason for Democrats' reluctance to make climate change an election issue is that the political class in DC seems out of touch with what people actually want. A 2019 paper in the American Political Science Review surveyed congressional aides about what they thought public opinion in their members' districts were. Both Democratic and Republican aides tended to underestimate support for liberal policies ranging from gun control to the regulation of carbon emissions, and those who had close ties to industry lobbyists had a particularly skewed view. "The more that offices get support from fossil fuel companies over environmental groups, the more they underestimate state- or district-level support for climate action," the papers' authors wrote in the New York Times.
This touches on an ongoing debate in political science circles about which groups have the most influence on the policymaking process. Some academics say that the wealthy, corporations, and special wield all the power and mass opinion doesn't influence Congress at all; others argue that actually the middle class frequently gets what it wants even when the wealthy oppose those policies.
The evidence when it comes to climate change, however, is pretty clear—public opinion wants action, the fossil fuel industry wants to delay or water down new regulations, and has spent hundreds of millions on lobbying. Climate change advocates could maybe overcome that disadvantage, but they have another handicap:
Problem 3: The passion gap
Activists have long hoped that society would soon hit a series of "tipping points" that would make drastic action like the Green New Deal possible. Some research has shown that large-scale social change can happen when 25 percent of people in a given community are passionate about that change; maybe a critical mass of people who reject gas-guzzling cars, or corporations that divest from fossil fuels, will lead to a sudden shift in how the world deals with climate change. 
The issue was that the passion wasn't really there—voters wanted something to be done about climate change, but they cared about other issues more. In 30 years of Gallup polling that asked people what they thought was the most important issue facing the country, climate and the environment was never mentioned by more than 8 percent of people. 
The project of groups like Vote4OurFuture, the Sunrise Movement, and the much better-funded NextGen America is to convince voters that climate change is the most important issue in the world, and to convince Americans who might be on the fence about voting that they need to vote in order to beat back climate change. 
The good news is that in other polls conducted by Stanford, Krosnick found that climate change's "issue public"—the number of people who say they're passionate about a topic—was 25 percent of all respondents, the second-biggest issue public he'd ever seen. And 90 percent of that issue public are passionate about fighting climate change, compared to just 10 percent who are passionate skeptics. 
You can see evidence of a newfound climate issue public in recent elections. When Massachusetts Senator Ed Markey was challenged in a primary this year by fellow Democrat Joe Kennedy III, he leaned into his record on the environment and his sponsorship of the Green New Deal legislation. He ended up beating the much younger Kennedy thanks in part to the support of young climate activists. It's a moment that exhausted advocates have been waiting for: See, you can run on the climate and win! Climate voters are real, and will reward you if you speak to them!
In the past few months House Democrats have introduced an ambitious climate plan that would bring the US to net zero emissions by 2050 and Joe Biden has released a infrastructure- and jobs-focused climate proposal that resembles the Green New Deal in many ways. Maybe Democrats are finally responding to Krosnick's research, which has found that voters care a lot about climate change even amid a pandemic. Maybe Biden actually believes global warming is the most important problem for him to solve as president. Maybe the Democrats will be frustrated enough by years of congressional gridlock that they'll remove the filibuster rule that functionally blocks all climate legislation.
But that would require Democrats to change how they approach the issue of climate change and actually prioritize it. Activists have largely persuaded voters that climate change is a really big problem. The next step is harder: They need to persuade Congress.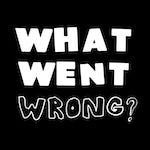 If you enjoyed reading this, subscribe and tell a friend! If you want to talk to me about this story or anything else, please email me.